Rapid economic growth has brought new industrialization to rural parts of China. 150 million people live along the Huai River Basin, one of the most. Full story here.
Villagers in Shenqiu County return from a funeral.
In Dong Cun Lou Village (population 1,500) this house sits empty after everyone in the family died of cancer.
Wang Zi Qing, 60, shows the scar where a tumor was removed from his stomach. He used to be a fisherman but is too sick to work anymore. His older and younger brother died of cancer within a month of each other.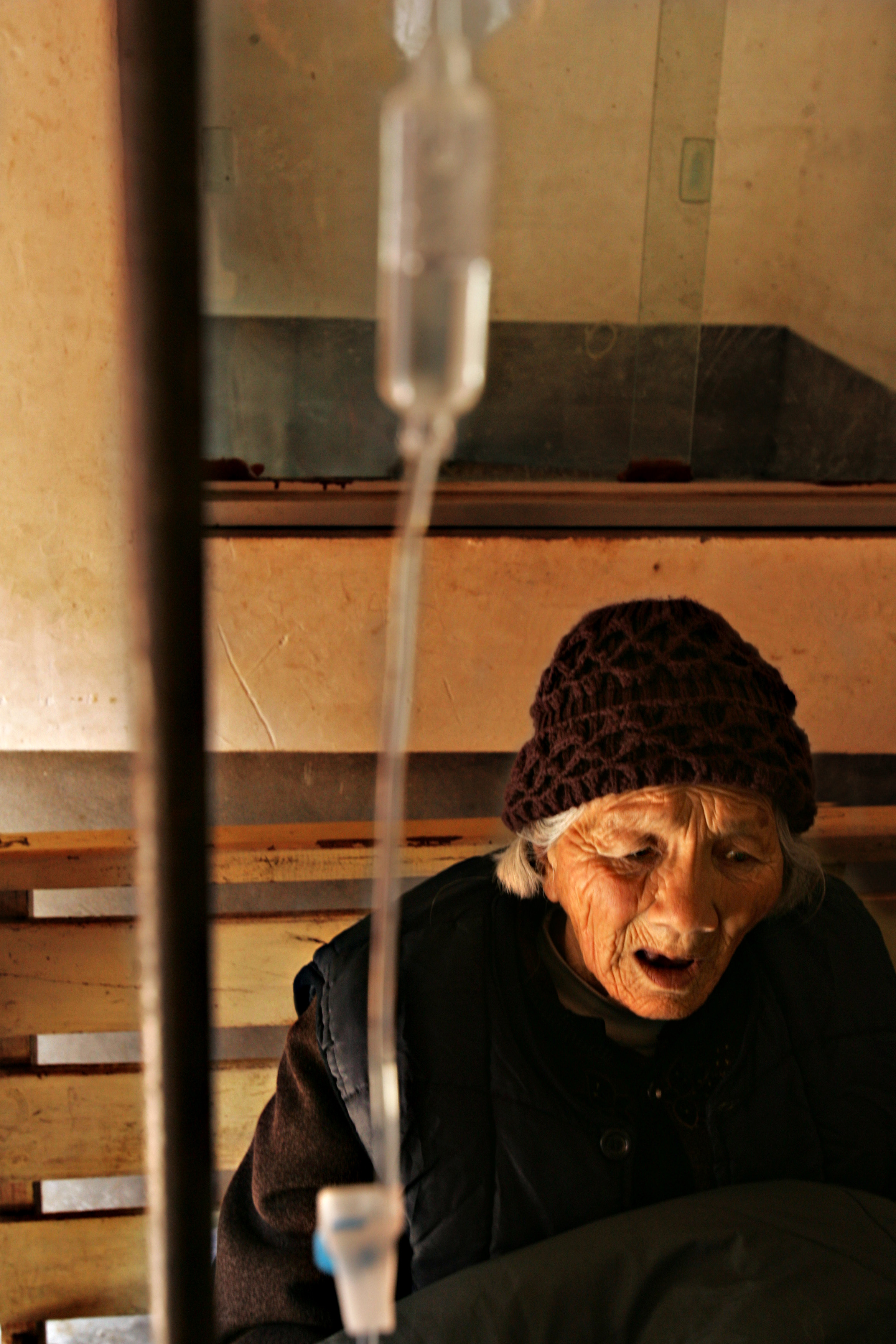 A woman is treated for a stomach ailment using an IV drip in Sunying Village in Shenqiu County. The local caregiver suspects she has stomach cancer, but she is unable to afford medical care.
Wastewater comes out of a pipe at the state-owned Lianhua MSG Factory. Lianhua (meaning 'Lotus Flower') is the largest producer of MSG in China and the largest polluter in the Huai River Basin.
Workers stack bags of plant fertilizer at Lianhua. The fertilizer is made using the wastewater from MSG production. According to Lianhua officials, the production of fertilizer allows them to reduce the amount of waste they dump back into the water.
A worker at the Lianhua MSG Factory.
Wang Zi Qing (foreground) lost both of his brothers to cancer within a month of each other. He previously worked as a fisherman, but there are no longer any fish in the river that runs through his village.
Wang Shiweu, 42, is an accountant by training, and operates the medical clinic in Huangmengying. He dispenses traditional Chinese medicine to villagers, most of whom are no longer able to afford conventional treatment for cancer.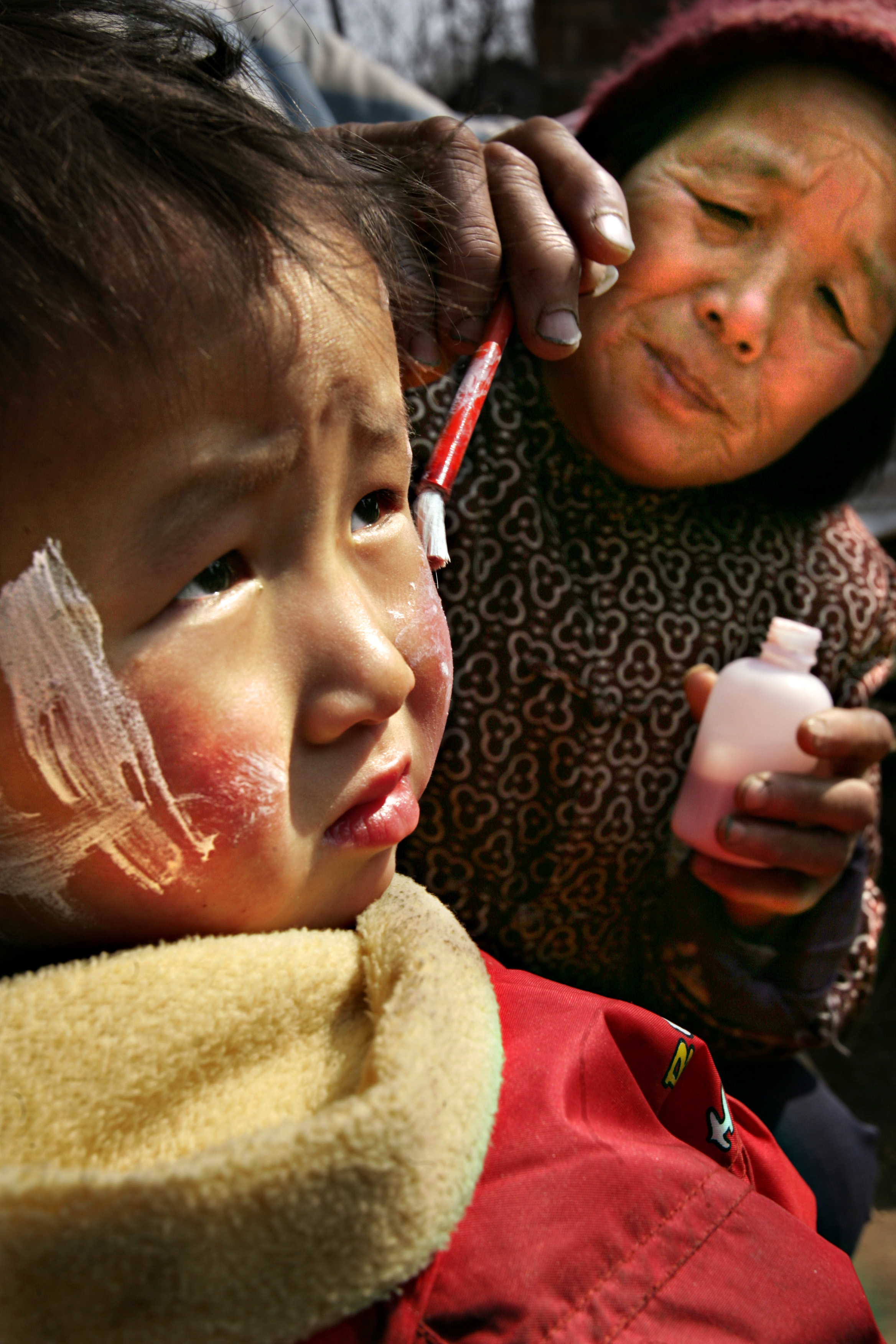 Jia Jiale has lotion applied to her face by her grandmother to treat rashes that have recently appeared. She has lived in other villages and never had any health problems but soon after she moved with her family to Sunying, she began developing itchy rashes all over her body.
Polluted water flows through a river in Shenqiu County. Seasonal rains and periodic waste dumping by factories cause the water to be continually polluted.
A fisherman examines his net for fish after casting it in the polluted waters of a river in Shenqiu County. After an hour's work, he was able to catch ten small bait fish with blisters on their bodies.
Children practice writing English at a school in Sunying where more than eighty people have died of cancer since 1990. Children are especially vulnerable to adverse health affects from drinking the polluted water because of their immature physiological development.
Liu Tianheng looks at his X-ray at the Shenqiu County Hospital. Liu has stomach cancer and brought his X-ray along with his medical records to meet with the head of the cancer unit at the hospital, Dr. Wang Yong Zeng.
Jia Yumei, 55 (right) , from Sunying Village waits outside of the Cancer Ward of the Shenqiu County Hospital with her daughter and son in law. She has been driven to the hospital on the back of a motorcycle cart and is awaiting treatment for an undisclosed illness.
Xue Huaqi is prepared for radiation treatment at Shenqiu County Hospital. Xue, 64, has lung cancer which has spread to his brain. His records indicate the areas that will be targetted in the treatment.
A patient gazes out the window in the cancer ward of Shenqiu County Hospital.
A mannequin floats in the water at a secret dumping site of Lianhua MSG Factory. The water coming from the factory is nearly black. Upstream is a pharmaceutical company and a leather tannery, both owned by Lianhua, who also dump their wastewater into the river.