The long car ride is one of my favorite precursors to an assignment. Hours on the road give me time to think about how I want to light a subject and do some of the more introspective evaluation of how I spend my time each day, what's important to me and what projects and ideas I want to develop over the coming months.
In July, I drove down to Charlottesville, VA for Discover Magazine to photograph William McDonough, one of the pioneers of green architecture. His book, Cradle to Cradle has made green buildings a mainstream and economically viable option for new construction. He has planned vast cities in China and suggested novel ideas like farms on the tops of bulidings to support the growing population there.
As is typical with shoots like this, I'll arrive early and spend some time walking around the building, inside and out to scout out possible locations, hoping to find 3-4 setups that are visually different and photographically strong. This is contemplation time, when I'm trying to blend my initial ideas with the spaces I find. Almost always, I like to shoot outside, or at least not in a fluorescent-lit, sterile office, but being an architecture firm, McDonough's space had some great scale models of their buildings and I made a note to shoot in that room which turned out to be the story's lead image. McDonough was juggling conversations with clients all over the world, but was very patient when it came time to shoot and our conversations about Walker Evans turned into the text for my contributor write-up.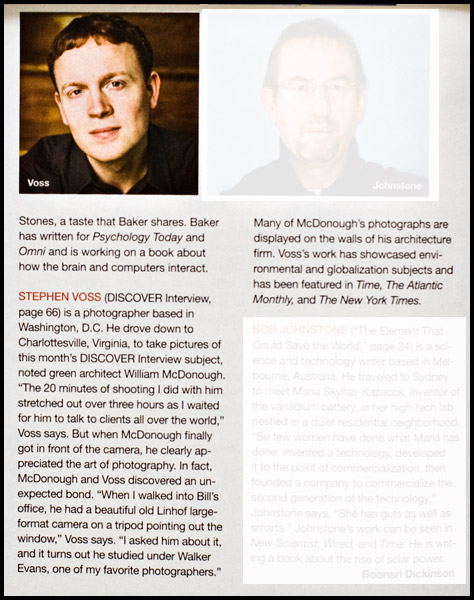 My second shoot for Discover had much less of that contemplation time, as it was about a five minute drive from my house in DC, where astrophysicist Alan Boss looks at the stars and ponders the creation of planets. Despite his spending most of his time thinking about big ideas, he was incredibly down to earth and fun to work with.