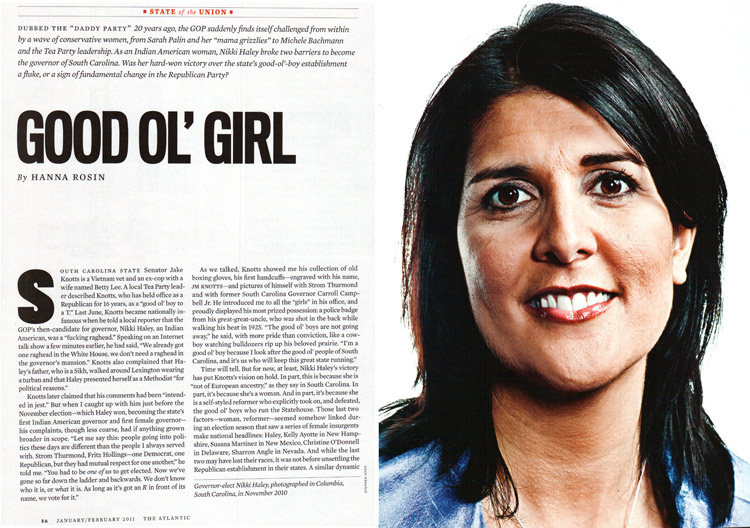 Governor Nikki Haley for The Atlantic
I had two portrait shoots for The Atlantic in November that allowed me to spend time with a couple of the new leaders of the Republican Party. Governor-elect Nikki Haley was still in her campaign office, filled with leftover boxes of campaign paraphernalia, generic furniture and a lived-in dinginess that I've seen in every campaign headquarters I've been in. She couldn't have been more accommodating with her time and after the shoot, her communications director dropped in with an autographed note on letterhead reading "Thanks for the great photos - Nikki Haley." I couldn't decide if I found this endearing or an attempt to sway the photos I submitted, but it was certainly a first for a shoot.
You can read Hanna Rosin's article about Gov. Haley here. Incidentally, a month later, I was at Hanna's home in DC for The Wall Street Journal.
Senator Mitch McConnell for The Atlantic
I think journalist Joshua Green's description of Senator McConnell sum up my impressions of him him better than I could do on my own:
"McConnell, 68, is owlish, phlegmatic, and gray, and often looks bothered, as though lunch isn't agreeing with him. He has been described as having "the natural charisma of an oyster." Yet you sense that this is not so much a burden as a choice, that he has pared away any qualities extraneous to his political advancement."
I'm used to extroversion and polish with the politicians I photograph, and Senator McConnell had neither of these, which I found challenging and (admittedly) a little refreshing. We talked about Lebanon, Kentucky, a small town in his home state where I had once spent a week photographing a family with seventeen children.
He soon stood up from the chair where we'd been shooting, silently announcing that my time with his was over.
Here are a few diptychs from the shoots with some additional images I liked. As always, a big thank you to Jason Treat and Katie Mathy for this shoot. I hold a special place in my heart for the magazine, as they gave me my first magazine cover and continue to produce some of the best journalism around.