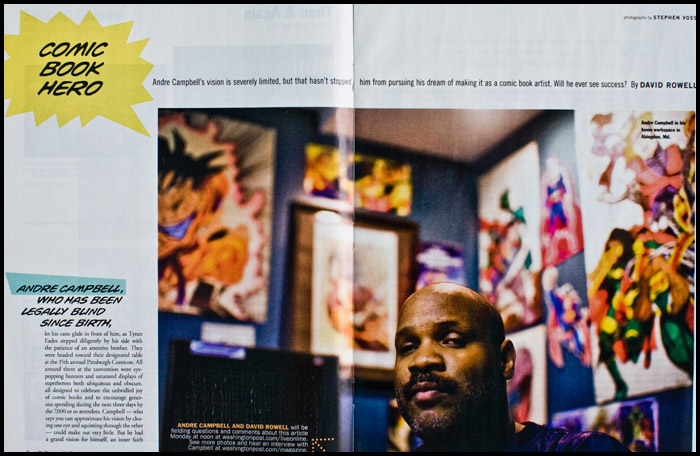 I photographed Andre Campbell a few months ago, watching as this man with limitless optimism and patience attempted to carry out a life long wish to be a successful comic book artist and run a successful comic book company.
Prior to shooting the story, I spent some time talking with David Rowell, the reporter working on the story and one of the central themes that he kept coming back to was the definition of success. How does one define this for themselves? What happens when traditional definitions (wealth, recognition, respect) aren't applicable, yet success is there, unexpectedly, but unmistakably?
As the year comes to a close, I've been looking over my work from the past 12 months and planning out some goals for 2009. This year definitely was successful in terms of shooting for some great new clients and having steady work. I do think I occasionally missed the mark on making photos that kept me happy and I'm working to make sure that I don't repeat those mistakes and that I make shooting for myself a larger slice of the pie in how I determine my success.
Regardless of whether comic book artist Andre Campbell becomes famous, I could tell within hours of meeting him that he had succeeded. An eye doctor declared him legally blind, yet he continues to draw respectable comics, have copyrights on over 500 characters he has invented, and walks each day to the bus stop to greet his children as they bound off the bus, into his arms.
You can read David Rowell's wonderful story here.